Book now
Best Price Guaranteed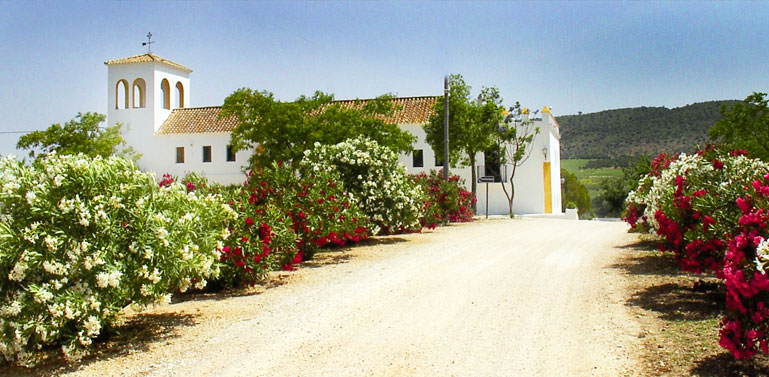 E
xclusive
ADVANTAGES
By booking through the


official website
Find us
Avda. El Santiscal, 173
11630 Arcos de la Frontera
GPS 36º 45' 38.65" N | - 5º 47' 5.01" W
Promotions Hacienda Hotel El Santiscal
ESPECIAL ENOLOGICAL GETAWAY


Don't miss this enological getaway that includes:

- Visit to the Sherry Bodega Domecq Gonzalez Byass or wine tasting.
- 2 nights accommodation in a superior room with breakfast for two.
- Dinner Menu with Wine Pairing (1 glass per plate).
- Welcome aperitif with a glass of Manzanilla de Sanlúcar and Cheese Payoyo cover the Sierra de Grazalema.

Offer for stays of two nights (2 persons).
price from € 275 per package.

Valid until May 31th, except: 13-20/04, 01-04/05, 12-18/05.

MINIMUM STAY OFFER (2 DAYS)


Holding our website get a 15% discount if you book at least 2 nights cosecutivas.

Offer not refundable, no cancellation or changes allowed. Hotels may charge the reservation from the first moment of confirmation.

ADVENTURE TRIP FOR TWO

PACKAGE INCLUDES ONE NIGHT IN STANDARD ROOM , BREAKFAST , DETAIL AND A WALK IN SHOWER FOR TWO BY CANOE LAKE FRONT ARCHES HOTEL .

Only about 1000 meters and the edge of Lake Arcos is the Yacht Club whose facilities allow to enjoy canoeing, kayaking , kayak sailing boats plus (if the card has a pattern ) and other outdoor sports free as archery or fishing, for which a margin area of ​​the lake has been completely refurbished . You need only bring gear and photo of the Federation. For those who want to use their gym will have a free hour. Information Desk .

TAKE ADVANTAGE OF THIS OPPORTUNITY TO ENJOY AND GOOD TIME AND OUTDOOR IN A RURAL ENVIRONMENT AND WITH ALL AMENITIES .

OFFER VALID AS AVAILABLE ALL YEAR EXCEPT SUNDAYS .

If for any reason outside the hotel such activity can not take place , be offset by an UPGRADE room .

- WEB SPECIAL OFFER € 99.90

For more info and booking online enter your dates on the calendar.

CHARMING

GETAWAY

A NIGHT

FOR TWO

IN

STANDARD

ROOM

DOUBLE BED

WITH

GUARANTEED

, welcome

,

MAS

BREAKFAST

SERVED

IN

THE ROOM AND

LATE CHECK

OUT

(14:00

HRAS

.

)

LOW

AVAILABILITY

.





WEB

SPECIAL OFFER

FROM

€ 79.90





For more info

and

booking

online

enter your dates

on the calendar.

LOOKING FOR THE STARS

Accommodation for one night in this SPECIAL room with king bed 2 x 2 which still retains its original wood paneling . It is located in a corner of the building, with a balcony overlooking the countryside and the mountains and a private terrace with views to the garden, lake , river and all fields. From it you can see the spectacular view of the Hacienda at about 180 º . We consider as a suite of summer because the terrace is equipped with garden furniture (two chairs, a table and two chairs ) , to sunbathe in total privacy , reading listening to the sound of silence or enjoy STARS .

We include a detail of cava and chocolates or strawberries as welcome and having good time privately serve the continental breakfast on the terrace . Bottle of wine and a snack ( serving of ham and cheese) for dinner moonlight . Is there anything more romantic?

VALID ALL YEAR . CHECK CONDITIONS FOR BRIDGES AND HOLIDAYS .

WEB OFFER FROM € 215 VAT included

For more info and booking online enter your dates on the calendar.

INTIMATE WITH DINNER GOURMET GETAWAY

SUPERIOR ACCOMMODATION IN ONE NIGHT , BREAKFAST SERRANÍA TYPICAL OF CADIZ ( PATE AND LOCAL FATS, OIL OLIVE OLVERA , HAM , ORANGE JUICE OUR COUNTRY ORCHARD AND PAN ) , INTIMATE DINNER FOR TWO WITH CANDLES , HOME WITH PRODUCT TYPE AREA WITH SCRAMBLED EGGS WITH ASPARAGUS TRIGUEROS CRISPY HAM , CHURRASCO gRILLED CHICKEN WITH VEGETABLES OUR ORCHARD , ALGODONALES GOAT CHEESE WITH HONEY AND SAW TWO WINE GLASSES BOWS .

Menu For A la Carte can book it with a supplement of € 15 per person . You can also book your intimate dinner for our gazebo glass with a supplement of 15 € . You can order them in the comments of your booking and availability will receive a confirmation email.

OFFER VALID ALL YEAR ACCORDING TO AVAILABILITY . SEE SPECIAL CONDITIONS FOR BRIDGES AND HOLIDAYS .

ONLINE OFFER FROM ONLY € 127.40 osCommerce

For more info and booking online enter your dates on the calendar.

GETAWAY

WITH

FLAVOR

ANDALUCIAN


SUPERIOR DOUBLE BED IN A NIGHT WITH BREAKFAST, DETAIL WELCOME DINNER MENU WITH TWO LOCAL WINE GLASSES, LOOKING AT A HORSE STUD Carthusian (Saturdays only) or THE REAL SCHOOL OF EQUESTRIAN ART ANDALUZA (Tuesday and Thursday). DEPENDING ON QUIET DAY, THIS ACTIVITY WILL BE REPLACED BY A HORSE RIDE (only Saturday and Sunday mornings)

VALID ALL YEAR. SEE SPECIAL CONDITIONS AND AVAILABILITY FOR HOLIDAYS, CHRISTMAS, EASTER AND BRIDGES, ETC

WEB OFFER FROM FROM € 139.90 €

For more info and booking online enter your dates on the calendar.

AN UNFORGETTABLE ROMANCE

HOSTING A NIGHT AT SUITE AND AMERICAN ROMANTIC WITH CANOPY BED 2 x 2 mtrs. , LIVING ROOM WITH FIREPLACE ( WOOD SHOWER INCLUDED) AND SHOWER FOOT MASSAGE , SPECIAL BREAKFAST WITH CHAMPAGNE AND STRAWBERRIES (IF SEASON ) OR BASKET FRUITS IN THE ROOM , ROMANTIC DINNER WITH CANDLES IN OUR PRIVATE GAZEBO WITH GLASS WINE BOTTLE , AND TWO COFFEE CUPS TO KEEP WATCHING THE MOONLIGHT .

VALID ALL YEAR ROUND EXCEPT BRIDGES AND HOLIDAYS ( CHRISTMAS , EASTER , ETC.) .

GOOD TIME TO SERVE DINNER WITH CANDLES AND BACKGROUND MUSIC IN OUR YARD FULL OF FLOWERS ANDALUCIAN .

IF YOU WANT THE PRIVATE DINING ROOM IN WINTER IN THE CHIMNEY FIRE , WILL reserved in a supplement of 10 € PER PERSON .

ECOLOGICAL WOOD EACH LOAD MAY APPLY IN RECEPTION AND A CHARGE OF € 12 EACH.

BOOK FOR THESE SERVICES , PLEASE INDICATE IN THE COMMENTS .

WEB SPECIAL OFFER € 225 VAT included

For more info and booking online enter your dates on the calendar.