Book now
Best Price Guaranteed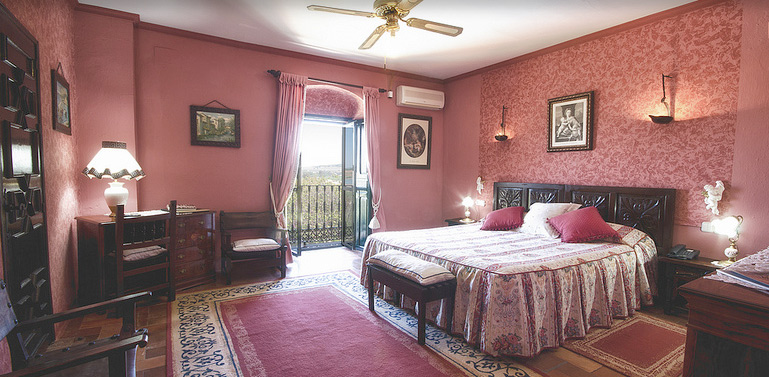 E
xclusive
ADVANTAGES
By booking through the


official website
Find us
Avda. El Santiscal, 173
11630 Arcos de la Frontera
GPS 36º 45' 38.65" N | - 5º 47' 5.01" W
Rooms Hacienda Hotel El Santiscal
The hotel has four Standard rooms, four Superior with Balcony, 3 Superior with Views, one Superior with Private Terrace and a Suite with a lounge and a fireplace. All are air conditioned with private remote control and fully-equipped with free safe, ceeling fun, direct telephone, wifi, and a full bathroom with hair dryer, towel heater, ecological dispensers, water saver and welcoming products among other amenities.

Since the hotel occupies a protected historical building (15th century), all the rooms are different, having opted for the mix of strong colors on the walls, referring to the 70's Pop Art, with furniture and antiques, most of the original house and quite valuable as a dresser of the sixteenth, a trunk of Vuitton for the carriages or an Elizabethan style sofa thats retains its original upholstery, among other pieces .

Some rooms have wooden beam ceilings, Arab brick or earthenware tile floors, paneled furniture, etc. although all are decorated in a cosy style that fits in with the style of the house, imbuing it with simplicity, elegance and character but always respecting the architectural ensemble that was declared "SINGULAR".


TO WATCH THE STARS AT THE MOONLIGHT (KING ROOM PRIVATE TERRACE)

Large pink bedroom with a King size 2m x 2m bed with a hand carved eighteenth century wooden headboard. It has the original beamed ceiling.

This room is located in a corner of the building with a small balcony facing the countryside and the mountains and also have a private terrace overlooking the garden, lake and river.

From here you can see an spectacular view of the property in about 180º.

We regard it as a summer suite because on the terrace you will find two sun loungers, a garden table and two chairs, to sunbathe in total privacy reading, listening the sounds of silence or TO WACHT THE STARS AT THE MOONLIGHT. (Total room measure 38,66 m2)






AS A LORD OF THE MANOR HOUSE (SUITE WITH FIREPLACE):

This romantic suite which was the private dependences of the Count of Lebrija, consists of two rooms, a blue bedroom with a king size 2m x 2m bed with a hand carved eighteenth century wooden headboard and an over the headboard half canopy and drapes which gives it a special romantic touch. It also has a small balcony overlooking the countryside and a original small Arab type window overlooking the Andalusian central courtyard.

The second rooms is a private lounge, composed of four armchairs and a original carriage wheel table to enjoy time spent in reading and intimate talk by the fireplace. Two cupboards with a small fridge in them and some more old pieces of furniture up the rest.

An andalusian style balcony allows us to look at a splendid view of the estate fields. The spacious bathroom is fully equipped, also having a walk-in shower.

To live for some days as THE LORD OF THE MANOR HOUSE (Total room measure 46,71 m2)






WITH ROMANTIC SUNSETS (KING SIZE WITH VIEWS)

One of the largest rooms in the hotel in one piece with crear tile color of the walls originally painted with a special decorative technique of italian origin known as "fractalli" and similar to stucco. In a central position we find the king size 2 x 2 meters bed which has a hand carved antique headboard from the seventeenth century. It is decorated with a antique bookcase, escritoire and two leather armchairs.

At the time of restauration is took advantage of a part of the room to create the bathroom that also has a small balcony with partial view of the lake and a large walk-in wardrobe.

The magnificent views over the garden, pool, lake and riverside and the ROMANTIC SUNSETS from its balcony andalusian style make it very special and demanded by our guests.. (Total room measure 24,80 m2)






NO LIMITS ON THE HORIZON (SUPERIOR WITH VIEW)

Large peach twin bedded room (90 x 190 metres), ideal for adding an extra bed and continue spacious and comfortable.

Both headboards are from the eighteenth century and made of hand carved wood, there is also an antique small wooden hand carved chest side and a bedside table. In one corner of the room is a sitting place suitable for reading with a round table. It also has a large walk-in wardrobe and the bathroom is complete.

The views from both balconies (one in the main room and a smaller one in the bath) overlooking the garden, pool, lake and river with NO LIMITS ON THE HORIZON are splendid. (Total room measure 23,81 m2)






AN UNFORGETTABLE NIGHT (SUPERIOR WITH BALCONY)

Large romantic maroon room, located in a corner of the left wing of the building, has a king size 2 x 2 meters bed which has an hand carved XVIII century wooden headboard and over the headboard small golden canopy with drapes.

The room is furnished with antique bedside tables and wardrobe in the same style.

A small section of the lake and the driveway of the property can be seen from its balcony and despite being near the hotel's private parking, just like the other rooms of the house, is very quiet and not noisy.

It is a very demanded for an UNFORGETTABLE NIGHT at romantic gateways, honey moons and anniversaries. (Total room measure 19,72 m2)






FOR LOVERS OF NATURE (SUPERIOR WITH BALCONY)

Light blue room, spacious, two beds 90 x 190 cm, with antique heads of wooden paneled S.XVII, which is accessed by a private winding staircase shared with the Suite, was not in vain private bedroom of the Countess of Lebrija.

It retains its original wood paneled ceiling on the ceiling.

For LOVERS OF NATURE, has two balconies ( iron forged closed ), Andalusian type, one overlooking the Sierra del Santiscal, the orchard of orange and olive trees as well as part of the River Guadalete and the other, to the Andalusian central courtyard studded with flowers, bougainvillea and ceramic pots. (21.56 m2 Total Measure)






UNDER THE BELL TOWER (STANDARD ROOM)

Room small but very cute and full of details, combining the colors albero and indigo, with high vaulted ceiling, located below the watchtower of the Hacienda, which was centuries ago THE BELL TOWER of the private chapel.

Has double bed 135 x 190 cm, which is attached to the side panel surrounded by an antique wooden, paneled S. XVII that goes with the cabinet of the same era.

Through a small window in Arabic type, you can see in the distance Arcos. It is one of the favorites of our customers despite being the most "Piccola". (14.04 m2 Total Measure)






WITH REAL CHARM AND RUSTIC FLAVOR (SUPERIOR WITH BALCONY)

After the recent restoration of the left wing of the Hacienda, this room has earned amplitude and luminosity. Pastel beige color, it has accommodated a Queen of 150 x 200 and two antique furniture that serve as bedside tables and a wrought iron craftsman head with painted wood to match them.

A touch of originality give both handcrafted lamps made with esparto and sack. The rest of the furniture is made up of a small table and a mirror both wrought iron, wooden wardrobe S. XVII and two seater sofa (convertible bed for an additional person) that make this a great nook for reading.

It has preserved barrel vaulted ceiling and wooden beams, being able to see Arcos from his little tiny arabic window and from its big window in forged iron, the andalusian patio studded with flowers.

A room with REAL CHARM AND RUSTIC FLAVOR (22.06 m2 Total Measure)






THE BRIGHT LIGHT OF THE SOUTH (SUPERIOR WITH BALCONY)

Located on the left wing of the house is accessed by a staircase with antique tiles and three small steps to the door of fine marquetry and studs.

Its pastel yellow walls give a very relaxed atmosphere, which combine perfectly with wooden beams, vaulted ceilings, antique furniture such as wardrobe, bedside tables antique XVII century and a dresser.

It has a small corridor in front of a large wrought iron window with beautiful views of the Andalusian central courtyard, which has created a corner to read WITH THE BRIGHT LIGHT OF THE SOUTH.

From the small window in the other side of the room, you can see Arcos and the countryside. (22.05 m2 Total Measure)






JUST FOR TWO (STANDARD)

Orange terracotta colored room with double bed 135 x 190, very romantic with wrought iron head, on which there is an ancient golden cornucopia with tulle falling on the sides.

It retains its original vaulted ceiling and a wood cabinet Antique S. XVII. Through the arabic window can see the entrance to the Hacienda.

For its size and features is the perfect room JUST FOR TWO (14.46 m2 Total Measure)






UNDISTURBED SLEEP (STANDARD)

Room two beds of 190 x 90 joined, with antique heads of wooden paneled S. XVII. Its walls green-water contrast with the blue and yellow decor. On one side, near the small window is a table and two chairs esparto craft.
If you come alone, or accompanied with friends and what is sought is to rest and recover UNDISTURBED SLEEP, this is your room. (14.96 m2 Total Measure)






SLEEPING "LA SIESTA" (STANDARD)

Room two beds of 190 x 90, which mixes the colors yellow, green and pale terracotta. It is worth noting his high barrel vault. The bedside table and wardrobe are wooden carved seventeenth century, and we find as head of the beds an original sill on which are placed several pieces of handmade pottery.

Despite being the only one without exterior view, from its small window we can see part of the beautiful Andalusian courtyard house.

Therefore, it is a room that holds the gloom in the torrid days of summer: FOR SLEEPING "LA SIESTA". (17.51 m2 Total Measure)